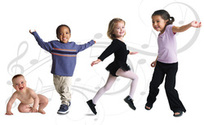 We offer many different types of dance classes. You can choose to offer just one of our classes or multiple for each session. All classes are 30 minutes long and we offer 2 different class and payment options. Please note that we are willing to work with you to customize the perfect program for your school. Please contact us for more information regarding pricing.

Option 1- A six, eight, or twelve week program brought weekly to your center! The 12 week option includes an end of session Parent's Day show, which is a wonderful chance to showcase each students talent while promoting confidence. The show gives students a chance to perform the little routine they've learned, and includes costuming at no extra charge! This option is billed directly to the parents so there is no impact on the school's budget.

Option 2- For schools wishing to provide classes to all their students,choose which class or classes you'd like to offer, the days, times, and frequency in which you would like us to come! This option uses a budget friendly pay per class system. *There is no show included in this option.

---
---
Class Structure
Wiggle & Giggle preschool classes are brought right to the children at their school, daycare, or other location. We bring all our props and music and conduct the classes in an open area in the center. Our weekly classes are a fun way to incorporate music and dancing into each little ones day!
Locations that have chosen the 12 week session, end with a show starring your kids! There is no extra charge to participate in the show, all props and costuming are borrowed for their performance and then returned after all the picture taking! Our classes are for children ages 2 1/2 to 6.
Each class follows the same basic format...
Hello Circle - We begin each class in a circle which gives each child a comfortable way to say hello to their teacher and friends and a chance to stand up and introduce themselves!
Warm-up and Stretching - Our group warm-up is set to music so the children have fun warming up and stretching their muscles, preparing them for the classes activities.
Skills - At this point in the class we begin working on new steps, choreography, and skills for that week. Sometimes this is done in place, across the floor, or with a partner.
Prop Dance - Each week a different prop is incorporated into class to assist in teaching skills whether it's bean bags, scarves, ribbons, or activity dice, etc.
Games - We incorporate some of the children's favorite dance games into the end of class like freeze dance and the hokey pokey!
Goodbyes/Rewards - Class ends with a cool down and reward such as, stamps, stickers, etc.
Parents, if you have received information about our classes from your school, and would like to register please follow the registration instructions you've received, or if online registration is being offered, go to our
registration
page to fill out and submit the form. Then you can make your payment online by clicking on the Add to Cart button, or by leaving a check at your child's school made out to Wiggle & Giggle.
*If you have a location where you'd like to see Wiggle&Giggle classes offered, click
HERE
to let us know! We are always adding new locations!
Class Descriptions
Creative Movement- Children use their imaginations while developing coordination, rhythm, and listening skills through fun activities. Giggle with us as we play, act, and dance to the music.


Hippity Hop- This high-energy class will surely spark a love of music and dancing in both girls and boys. The basics of jazz combined with current hip-hop isolations will have the children grooving to the music.


Swingin' Stories- Beginning each class with a children's book and transitioning into a movement class using motion words and themes from the story. Children will identify action words and express themselves through movement while using their imaginations to play and dance to music.


Fitness Fun- A fun class where children will learn basics of physical fitness, work on their gross motor skills, and teamwork! Children will have a ball with our lively activities and games.


Shake, Rattle, & Roll- A jazz class all children will love! An intro to the different styles of jazz movements and choreography. Fun, upbeat songs, old and new provide a great soundtrack for this class! Let's see those jazz hands!

Budding Ballerinas- A first step into the world of ballet. Dancers will be introduced to ballet positions, techniques, and vocabulary. Learning ballet fundamentals through fun activities while growing to love dance.


Tiny Tappers- Boys and girls will learn rhythm and basic tap steps in this upbeat class. Dancers will develop coordination and skills in memorizing combinations and counting steps. Heel, toe...here we go! (tap shoes required)


Yoga Kids- Playful yoga poses, breathing exercises, games, and relaxation techniques set to music will help children develop motor coordination, balance, strength, and play skills. Also promoting mind-body awareness and positive thinking.

Creative Movement I - This class is specifically designed for our youngest dancers! In this class children will use their imaginations while developing coordination, rhythm and listening skills through fun activities. Littles will be introduced to movement fundamentals and different types of music, while working on gross motor skills. Join us as we move like animals, dance to the music, and giggle through class. (starting with children 18 months old)
For classes for children grades K-5 click
here
to go to our After School Enrichment Program page.
---
Summer Fun Dance Classes
Our 6 week summer programs include fun themes like Under the Sea, Pirates & Fairies, Super Heroes, Rockstars and more! Children will learn the fundamentals of different styles of dance, and basic choreography while using their imagination and having a blast. Giggle, sing, and dance with us all summer long! Contact us for more information!!

Parent's Day Show
If you choose option 1, at the end of the 12 sessions we offer a show for the dance classes. We bring all the costumes and props at no extra charge! We hold the show right at your center either in the afternoon or night (schools choice) of the 12th class. This is a wonderful way for the children to show their families and friends just what they have learned throughout the class, and parents love watching their little ones shine!



Special Events
Make Camp Days, Workshops, Parent's Night Out, or any school day fun by having us in for a special event! Packages include a movement class, games, plus a themed craft or prop for each child to take home! Choose between a 1 hour, 1 and a half hour, or 2 hour event! Time can be split between different classes.

---