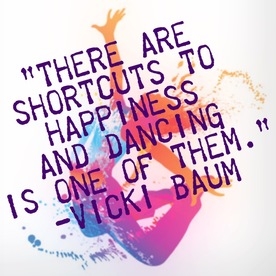 Our after school dance program is designed especially for students in grades K-5. We provide dance classes for children right at their own school or center.
In our fun, high energy dance classes children will develop coordination while increasing flexibility, core-strength, balance; and reinforcing a positive body image and team work. Classes are 45 minutes long and include, movement vocabulary, dance technique, stretching, and choreography. Students can focus on one specific style of dance for the entire program or we can switch styles throughout.
This program is customizable to meet the needs of your school, you choose the days of the week, times, session length, and number of classes per week.
E-mail
or call us for more information.
---
Class Descriptions
Just Dance- During this class children will learn different styles of dance. Dancers will learn fundamentals from jazz, creative movement, and hip hop, just to name a few. Each class includes a warm-up, stretches, isolations, across the floor progressions, combinations, and choreography. This class is set to fun, popular music that all children will love!

Twinkle Toe Ballerinas- Ballet is the foundation of all forms of dance. In this class students are introduced to ballet class structure, stretching and strengthening exercises are given, barre work is introduced as well as vocabulary. In ballet, the focus is on posture, gracefulness, body placement, footwork, turns, jumps, leaps, as well as choreography. Children will gain confidence while gracefully dancing to the music.

Jazzy Jammers- Different styles of jazz dance will be explored during this class, students will grow to appreciate the traditional and funky styles of today. Class includes a warm-up, stretches, isolations, across-the-floor progressions, and combinations. This class is set to fun, popular music, emphasis is placed on rhythm as well as basic technique, locomotor skills and coordination.

Hip Hoppers- This class will begin with learning basic jazz and current hip hop styles. Children will learn more of an "old school" style of hip hop which will consist only of age appropriate movements and isolations! Class begins with warm ups, moves to center floor work and choreography, across the floor exercises, then a group dance activity to develop team work and social skills. Classes will end with free dance "battles" giving children time to showcase their moves while being cheered on by their peers. Boys and girls will have a blast in this high-energy class that will surely spark a love of music and dancing!

Tappin' Feet- The rhythm and movement of tap, created by the metal taps on the heels and toes of a dancer's shoes, transforms the dancer into a percussive musician. Tap dance emphasizes the flow of movement by teaching the dancer to find rhythms and beats not only in music but in their own bodies. Students are taught rhythms, timing, and leg/foot coordination done to various types of music while having fun! (tap shoes required)

Yoga-Playful yoga poses, breathing exercises, games, and relaxation techniques set to music will help children develop motor coordination, balance, strength, and play skills. Also promoting mind-body awareness and positive thinking.

Summer Camp Classes- Our summer programs include fun themes like On the Radio, Country Line Dancing, Yoga, Blast from the Past, and On Broadway. Children will learn different styles of dance, and choreography each week while having a blast!